Kharisma Dumbledore Muda di Fantastic Beasts: The Crimes of Grindelwald.
Sekuel Fantastic Beasts and Where to Find Them yang berjudul Fantastic Beasts: The Crimes of Grindelwald telah memiliki sebuah trailer perdana. satu hal yang menarik adalah penampilan Jude Law sebagai Albus Dumbledore muda.
Menelusuri video unggahan Warner Bros itu, Fantastic Beasts: The Crimes of Grindelwald dipastikan kembali menampilkan sekolah sihir hogwarts yang menjadi ikon film-film Harry Potter. Tampak para ahli sihir berkunjung ke Hogwarts untuk menemui Dumbledore yang masih tampak bugar.
Disitu, Dumbledore ditanya mengenai rumor keberadaan Newt Scamander (Eddie Redmayne) yang datang ke Paris atas perintahnya. Dumbledore pun menjawab dengan santai bahwa Newt bukanlah sosok yang gampang mematuhi perintahnya.
Fantastic Beasts: The Crimes of Grindelwald sendiri bertindak sebagai prekuel Harry Potter. Selain Eddie Redmayne dan Jude Law, film ini turut memamerkan akting Johnny Depp sebagai Gellert Grinderwald.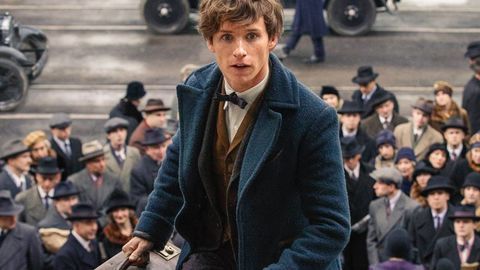 Penyihir Jahat
Sosok Gellert Grinderwald disebut oleh Dumbledore sebagai penyihir jahat yang harus dihadapi olehnya dan para ahli sihir. Dalam sebuah dialog, terdengar suara Jude Law sebagai Dumbledore yang berbicara kepada Newt Scamander.
"Aku tak bisa melawan Grinderwald. kalian yang harus melawan dia" ucap Dumbledore kepada Newt Scamander.
Cuplikan Adegan
Cuplikan adegan trailernya melibatkan beragam sihir serta dimunculkannya tempat-tempat misterius. Hewan-hewan sihir milik Newt yang ada di film pertama Fantastic Beasts pun kembali dihadirkan.
16 November 2018
Fantastic Beasts: The Crimes of Grindelwald rencananya akan dirilis pada 16 November 2018 mendatang. David Yates kembali sebagai sutradara film tersebut, sementara penulis novel aslinya , J.K Rowling, terlibat sebagai penggarap skenario.
JokerMovie Ratings: 4.1

Out Of 5 (Recommended)